John Nagenda, like many apologists in NRA/M era, must have died a quietly haunted man. The spin master, who barefacedly defended President Museveni, probably lived the last days of his life in disillusionment and with memories of darker past, writes JACOBS SEAMAN ODONGO.
From the worst PR spin in the country's history when the NRA/M displayed skulls of Luweero, to believing earnestly that President Museveni was capable of standing down, and finally the intellectual insults he spat at whoever dared unzip Mr Museveni's jacket, Mr Nagenda was a man in full flow of intellectual bliss on the wrong tide.
Yet for any follies, Nagenda was one of the few who insulted you and you took pleasure in hearing it, or reading about it. His insults were baked in the moon and served in snow; they were as appealing to the eyes and ears as they were to the taste buds, imagined or otherwise.
"John was one of the hatchet men who conducted a vicious campaign of persecution, disinformation and smear against me, throughout my sojourn abroad," former presidential candidate Olara Otunnu wrote in a 2020 opinion in Daily Monitor.
"The Museveni regime fabricated the story that I had renounced my Ugandan citizenship. John peddled this and other lies, repeating them ad nauseam [unrestrained]. Given his particular background and admirable talents, I feel very sad about John's chosen path. As for the hatchet job on me over the years, I forgive John."
Through his One Man's Week column in Saturday Vision, Mr Nagenda earned the respect of all who imbibed the finer grasp of the Queen's language. And with the column, he showed over the decades that he was a man who was true to a fault.
At the New Vision newspaper, nobody dared touch a word on Nagenda's column. What he sent is what readers got, not a comma more or less. He once called Mr Otunnu, a former diplomat at the United Nations, "Ivorian" in a headline to a column that was more or less bile of sectarianism. But it was Mr Nagenda's world. And word.
He reserved his finest diction for critics of Mr Museveni and, credit to him, he did not hold back even against the President. He was one of the few insiders – if at all he was anyway – who ever lectured the President and not received insults from supporters or a stern warning from his boss.
Dr Muniini Mulera, a long-time columnist with Daily Monitor, confessed in 2018 that Mr Nagenda's writing is "one that frequently leaves me hungry for more."
"Whatever the explanation for Nagenda's willingness to nibble at the hand that feeds him, we encourage him to keep his pen flowing, with greater courage than he has often allowed himself. He, of course, owes us an autobiography, and completion of many unfinished manuscripts that he has talked about over the years. Wouldn't an insider's candid observations on the elusive fundamental change serve posterity's attempts to understand how our generation dropped the ball?" he wrote.
Norbert Mao, an erstwhile Opposition stalwart and now Justice minister, in 2017 said if there were people whose praise he craved and whose censure he dreaded, then Nagenda ranked high among them.
Mr Mao said those who have never been close to Nagenda may see him as very aloof.
"In reality, Nagenda is very warm. His words are measured and deployed for maximum effect. He also has a mischievous sense of humour," he said.
Blind faith
For all his brilliance, this King's College, Budo, alumnus who was once exiled to Kigezi High School did chase shadows. And a lot. He appeared to trust so much in his closeness to the imperial dining table that he felt he could tell the smell of every ingredient used in the cooking.
But like any chef will tell you, only those in the real kitchen can truly tell all in the smells that waft when food is being served.
Mr Nagenda held Eriya Kategaya in such high esteem. He believed that Kategeya, a former NRA/NRM historical, was a man of such fine principal that President Museveni listened when he spoke.
And that is where a gaping hole in Nagenda's life was – and one that probably scared the living daylight out of every rubric of Nagenda's life. Mr Museveni probably wouldn't listen to even himself.
Kategaya, a childhood friend of Mr Museveni, was considered the de facto Number Two. But in 2003, he stood his ground as acrimonious debates about lifting of the constitutional provision on presidential term limits peppered the political milieu of the country.
First, Kategaya lost his First Deputy Prime Minister job – along with other dissenting top guns as former ethics minister Miria Matemba – and appeared to have parted ways with Mr Museveni for good.
"A Munyankole man can only turn in bed but not on his own words," the former Rwampara constituency MP would say, ostensibly to underline his steely resolve to never return to the NRM fold.
But return, he did, only three years later.
Nagenda did not have to fall out with Mr Museveni when he opposed the attempts to lift the age limit from the Constitution to allow Mr Museveni rule for life. He simply conceded that he had been "thinking about it" and that "if it aint broken, don't mend it".
He would then go on to speak fervently about how Mr Museveni was running for his last term in office in 2016. From his words, you could tell that Mr Nagenda, then a senior presidential advisor on the media and public relations, knew what was going on inside State House.
But in 2021, Mr Museveni stood for re-election again, his nearest challenger this time someone young enough to be his grandson. Either Mr Nagenda had lost his faith in the President or former presidential spokesperson Tamale Mirundi was right after all – when he said that Mr Museveni's advisors never even get to see him, let alone speak to him.
Speaking as chief guest at the graduation ceremony of Friedrich Ebert Stiftung (FES) Young Leaders Forum in November 2015, Mr Nagenda reiterated what had become his clarion call that Mr Museveni trains a successor and poured cold water on the 'Muhoozi project,' an alleged plot to have First Son Gen Muhoozi Kainerugaba take over from his father.
"I know the President quite well, it is true like most politicians, that he thinks he is the best person for the party and he is right. I am giving you chance, when I am here in five years' time, to attack me that my reading of his body language was wrong but it tells me something. I am glad he has said it because I believe it is time up. Now is the golden opportunity to train somebody to take over," Mr Nagenda then said.
Mr Museveni had two weeks earlier claimed that he would respect the constitutional clause on age limit that was then capped at 75 for the head of state. Nagenda believed the same man he had helped would  not lie with abandon.
Ugandans must have laughed at Nagenda then because none ever bothered to "attack" him as he had beseeched if he was wrong. He was not just wrong but dead wrong as the age limit clause was scrapped and Gen Muhoozi has been moving in full flow with the wind that suggests he has been set to test the depth of the river – which he is doing with both feet confident that his father will not let him drown if the feet started sinking.
Mr Nagenda would concede years later, saying Mr Museveni no longer listened to wise counsel and that he had surrounded himself with opportunists and sycophants.
"I would say that he is more autocratic than he was when he first came," Mr Nagenda said in an exclusive interview with then Sunday Monitor reporter Richard Wanambwa.
However, he blamed it all on the "sycophants and opportunists" who he claimed he had seen laugh sheepishly when Museveni asked them to front someone to take over so he retires to his cows in Rwakitura, his countryside home.
Whenever Mr Nagenda spoke of such incidents – he probably made them up for spin to create that spectre of Mr Museveni willing to leave power – he appeared to believe them himself. But then again, the best liars have to lie to even themselves to be believed.
Like in 1996 when the majority public largely consumed the skulls lie.
When Paul Kawanga Ssemogerere stood up to challenge Mr Museveni in the first presidential election in the NRA/M era in 1996, the devastating media smear campaign against his presidential bid was chilling. Orchestrated by Mr Nagenda, Ssemo was called a Trojan horse for Milton Obote's return.
Images of skulls were splashed in the newspapers with the innuendo that a vote for Ssemo would dishonour the memory of those who died in the jungles of Luweero Triangle. The radios were in full girth with commercials threatening that without Museveni Uganda would go back to the dark days of panda gari and trigger-happy soldiers.
For this and more, Mr Nagenda has secured his seat in the dining room but not the kitchen where the real taste of the pudding is determined. Whether it would be poisonous or not was all decided in the kitchen.
But in his last three months, one of the bad dreams that plagued Mr Nagenda in hospital must have been that of the so-called Drone. This one was in HD. The abductions, disappearances and killings that have been going on in the country would make panda gari sound like a fable and the triggers have been fatally happy.
In the 2021 presidential election that Mr Nagenda would never have believed Mr Museveni would take part in, at least 53 people were innocently gunned down, the majority of them persons who had just gone out to eke out a living.
The image of Kamuyat Ngobi sprawled lifeless with the food she was delivering splattered around after a bullet hit her in the head is one that those who engaged in the 1996 smear campaign might never want to image. Certainly not the architect, Mr Nagenda.
 Was Nagenda a sycophant himself?
In his musings, Mr Nagenda was most brittle when criticizing those in the NRM, especially the Cabinet, and scornful of anything related to transition. The irony is that he kept asking Mr Museveni grooms a successor despite the President's aversion to the topic.
"But then consider this; nobody has ever come close to getting there and I think there was a time when Dr Kizza Besigye got 36%. That is the nearest and I am not a believer at all in this rubbish that the votes [Besigye's] were cheated. And even in some places some were lost and so on, I don't think it changed results and definitely you have seen Besigye disappearing and he is just now a nuisance value. He comes out and then people without jobs who get a bottle of soda out of it come and shout but I don't know any serious people who think he could do it."
Mr Nagenda was that good with spinning. He was the master of obscurantism. His was a satiated confidence, the kind that gave the impression more than an illusion that he would probably pocket while naked with relative ease.
The satiated life he lived was the kind that has always frustrated Dr Besigye whose whinnying about the elite being the "problem" never gets old. Mao, in 2017, wrote about visiting the "leafy Nagenda residence" in the upscale Kampala suburb of Muyenga and being given a "tour of the large house and the grounds."
"In the living room there was a massive hand carved centre table with all the totems of the clans of Buganda beautifully displayed. We walked around the table as he explained the meanings and significance of each of the clans and their totems and unique roles in the Buganda royal constellation," Mao said of the author of The Seasons of Thomas Tebo: A Vivid Allegory of Modern Uganda.
But the difference between the elite in Nagenda and the rest that Besigye chides so much is that Nagenda was one of the few who spoke even with food in his mouth. He probably knew when to speak, or as one of the most iconic spin doctors of Uganda's recent political history, he merely threw bones from the dining table – bones that choked those who dived for it.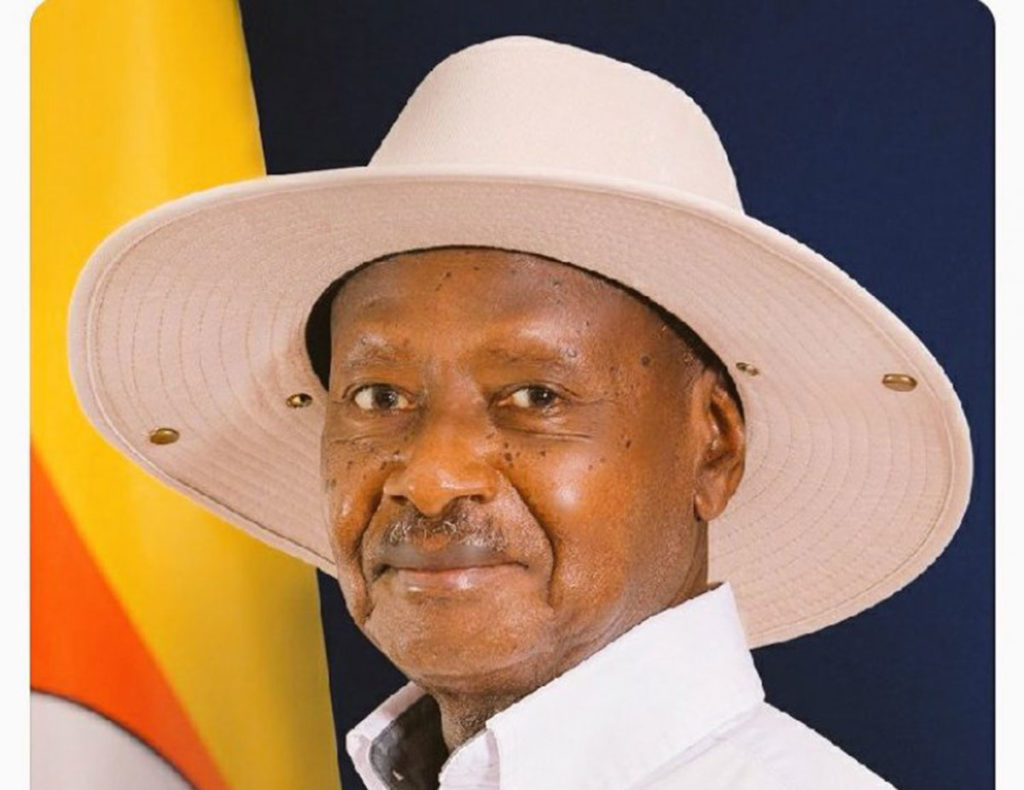 Spin master and sportsman
Mr Nagenda, a veteran journalist, died on Saturday afternoon at Medipal International Hospital in Kampala where he had been admitted for weeks, according to the presidency. He was 84.
Born John Mwesigwa Robin Nagenda on April 25, 1938 in Rwanda where his father William Nagenda had travelled as a Christian missionary.
Nagenda was one of the longest-serving media advisors of President Museveni and a close associate of Buganda king Ronald Mutebi, whom he claims to have met while in exile in London, United Kingdom, in the 1960s and played a foster uncle to.
An avid and lifetime cricketer, the alumnus of Busoga College Mwiri where the gentleman's game thrived most of any schools at the time, played a One Day International in the 1975 World Cup for East Africa. He appeared in one first-class cricket match in England in 1975, and played cricket for Uganda.
Nagenda returned to Uganda after Museveni captured power in 1986 and dedicated his life to spinning for the regime, he first faced in 1985 while stringing for the BBC.