Whoever of these young and old Turks will step into Baba's shoes should be mindful to marshal Baba's charm and magnetism, goodwill and war chest to back their bids and also appreciate that the Luo- Nyanza nation still cherishes Raila and punishes those who line up against him.
Since the August 9, 2022 presidential polls that Raila Odinga lost narrowly, his fans are worried that at 77, Baba, as Raila is fondly called, may not have much of his old fighting stamina. These devotees are now sneaking glances behind Baba's shoulders to see who may best slip on his running shoes, especially in his backyard in Nyanza.
The obvious substitutes are seven young Turks in the six counties of Nyanza.
Kisii Governor Simba Arati 
The first to watch closely is lawyer Paul Simba Arati who started off as a nominated councillor in Nairobi County Assembly. Arati's is a story of unbowed hope, starting off by running for political office as a young man with rare dynamism.
Even when he lost his bid, Arati was not ready to go down quietly and stirred an uproar. Raila then singled out Arati and nominated him as a member of the Nairobi County Assembly under his Orange Democratic Movement (ODM) party.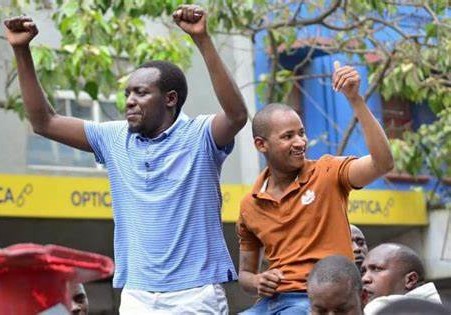 Raila later backed Arati for the Dagoretti North MP seat in Nairobi City where he contested and won twice. Even Arati's shift to his home turf in Kisii in Nyanza must have been prompted by Raila. 
So, Arati emerges as one of the key allies of Raila in both Nairobi and now in Kisii.
Arati's brand of politics also resonates well with the Luo and this sets him out as a potential leader of Nyanza. First, Arati has stood by Raila over the rough and tumble of Kenya's politics and this has endeared him to Raila's fans, who have found it easy and comfortable to support him.
Arati is also credited with protecting Baba's votes in Kisii, Mombasa and Kakamega counties, among other electoral hotspots in the 2022 polls. These attributes are the stamps of politics that the Luo Nyanza nation appreciates.
On his way up the Kisii Governor's seat, Arati pushed off rivals and political heavyweights such as Kisii Senator Sam Ongeri and former Chief Administrative Secretary Chris Obure. 
But Arati's meteoric rise is also likely to attract envy from his detractors, although this prediction is rather early to delve into now. 
Nevertheless, at only 40, Arati is one of the youngest and most influential politicians of our day. His advantage is the goodwill he enjoys from Baba and his fans, aided by Arati's own businesses to finance his electoral war chest.
Embakasi East MP Babu Owino
Everything about the Raila brand of politics favours the two-time Embakasi East MP Paul Ongili, better known as Babu Owino.
Babu started off as a student leader at Nairobi University between 2010 and 2015, but has since gained his footing in both local and national politics. 
He first ran for the Westland's MP seat in 2013 but was beaten to it by Timothy Wanyonyi.
He then shifted to Embakasi East and has now run for the seat and won it twice.
Now 33, Babu is widely regarded as one of Kenya's most influential political leaders, particularly among the young people. For this, he is the face of youth politics in ODM party, and few rallies in the 2022 presidential campaigns would start without Babu being one of the curtain raisers to wow the Azimio-One Kenya Alliance crowds.
But Babu also remains a rubble rouser within and without ODM and was accused by political opponents of meddling in the late-held Mombasa gubernatorial race. 
Given his youthfulness and outspokenness as well as streetwise ways, it is difficult to beat Babu in political debates neither is it easy to rob Babu or those he defends, of electoral victory. Subsequently, several attempts to stop Babu or his networks from electoral wins have failed. 
Perhaps what Babu now requires more are guidance and mentorship to become more mature and the next big thing in Nyanza politics after Raila.
Migori Governor Okoth Obado
Zachary Okoth Obado has previously created for himself a secure political niche and has dared to challenge the Raila-ODM party wave in Luo-Nyanza.
In 2013 Obado got elected on his own People's Democratic Party ticket, defying the Raila wave in Nyanza. But Obado jumped back to the Raila fold in 2017 and was easily re-elected on the ODM party ticket. But soon after, Obado started cutting his own political path away from Raila. 
Then came attempts to impeach him in 2021, which flopped. Today, Obado is again one of the lone rangers from Nyanza and a point man in President William Ruto's Kenya Kwanza political alliance in Luo Nyanza. 
While the Ruto camp will project Obado as an inclusive face of Kenya, he will also be seen as one who has betrayed the presidential bid of son-of-the soil Raila. Some critics may even blame Obado for the narrow 200,0000 odd vote margin between Raila's 6.9 million votes and Ruto's 7.1 million votes.
But Obado knows his way about grassroots politics and has his own war chest to oil a campaign. For now, being on the opposite camp, Obado, 65, needs to play a key role in Ruto's government so as to rebound in 2027 as the top political dog he once was in Migori County.
However, before Obado can nurse any thoughts of his comeback in Migori and thinking of marshaling the Nyanza vote behind him, he has got to first contend with ejecting former Cabinet minister and Migori County Senator and now ODM party-backed Migori County Governor George Ochilo Ayacko – his political nemesis.
Political strategist Eliud Owalo
The management consultant ran Raila's presidential campaigns in 2013 and 2017. Besides, Owalo as a close ally and aide of Raila co-founded Friends of Raila (FORA) lobby group. 
This closeness built Owalo as a strongman around Raila and introduced him to most grassroot leaders. This closeness to Raila, political commentators do believe, riled Owalo's opponents who forced a wedge between Raila and Owalo.
The final fallout came when he was denied the nomination for Kibra parliamentary seat in favour of Ken Okoth. Owalo then started charting his own political path away from Raila. 
From then on, Owalo became a political traveller as he ditched ODM in 2017 and walked into Musalia Mudavadi's ANC party in 2019. Today, Owalo stands closer to President Ruto and has been appointed a key player in his new government as Cabinet Secretary for information, communication and technology. 
But Owalo, like Obado, Nicholas Gumbo and Jack Ranguma as point men in Ruto's camp in Luo-Nyanza, will also carry the tug of traitor and needs that profile and influence of the most senior man from Luo land in Ruto's government to secure a strong foothold in Nyanza politics come 2027.
Ugenya MP David Ochieng
The Ugenya MP was among the young Turks elected in Luo Nyanza in 2013. They were strong-headed and stood up against the old guard and were punished for this political impudence. 
Except for his fighting spirit, Ochieng would have been among the victims, but he survived the onslaught when he ran to court and had his win confirmed.
That Ochieng won against the Raila wave in Nyanza and running on his own party ticket, the Movement for Democracy and Growth, is testament to his political shrewdness. This trait sets up Ochieng to be keenly watched on the political high road in Nyanza.
But Ochieng's quick choice to decamp from Raila's Azimio la Umoja and join Ruto in the new government is somewhat premature and may cast him at odds with the Luo Nyanza who believe that Raila's victory was stolen and handed over to Ruto. 
But Ochieng dismisses any talk of Ruto having smoothed his path to victory. 
Nonetheless, the Ugenya MP, like Ruto, fashions himself on rural and needy upbringing and designing his party in sync with an image of a new Kenya that should work for all hustlers. But at 39, Ochieng is young, energetic and enterprising and stands in good stead among Raila's possible successors in Nyanza. 
CAS David Osiany
At 34, Chief Administrative Secretary (CAS) David Osiany is one of the youngest cabinet assistant Secretaries. Like Babu Owino, Osiany passed his first leadership test when he won the leadership of the students' union of Nairobi University.
At only 26, he was already an adviser on youth affairs to Raila, the former Prime Minister of Kenya.
And Osiany has remained by Raila's side as his loyal lieutenant in handling youth affairs. 
Osiany in turn credits Raila with identifying, nurturing and carrying him on his shoulders. This camaraderie had Raila successfully recommending Osiany to President Uhuru Kenyatta for appointment as one of the youngest CAS.
Little wonder that Osiany sees himself as one of the natural successors of Raila. This came out in Osiany's tribute when Raila lost the August 9 presidential polls, which many saw as his likely last bid. 
"These years of investment in some of us may have been for moments like these: to be strong when he is weak. These many years under his tutelage will not be wasted. They will pay off. Maybe not immediately, but certainly in the very foreseeable future."
"Come with me. We are headed there. That's where he intended to get us to, and we will get there."
In sum, Osiany could be said to be the younger version of Raila when it comes to political persuading. In 2017, Osiany ran for public office but says he was cheated of victory but he remained optimistic. 
Osiany also has an impressive singing talent with powerful vocals, which likely put him in good stead to becoming a news anchor. Like the Ruto religious brand, Osiany is a staunch Seventh Day Adventist and a chorister in church. 
Perhaps the future is where Osiany is likely to be a big attraction to the youth as "a man of singsong quotable quotes, byte-sized content for a TikTok Generation."
To calm his wrecked nerves in the aftermath of the defeat of Raila, Osiany mobilised netizens to sing inspirational hymns to find solace and strength in Raila's loss.
Unpredictable Raphael Tuju
Another politician likely to be a key factor in Nyanza succession politics is Raphael Tuju. 
But at 63, Tuju would be one of the old guard to eye the Raila leadership space.
Nonetheless, Tuju boasts the most enviable public service track record having served as a journalist, TV producer, and real estate investor. He was also Rarieda MP, Minister of Information and Communications, that of Tourism and Wildlife, and later minister of Foreign Affairs.
This profile sets apart Tuju as one politician with a vast network, having served with the Jubilee party for 10 years and can be said to be widely acceptable across the political divide beyond Nyanza.
Although seen as unpredictable, Tuju was first elected Rarieda MP in 2002 and became a minister, but soon fell out with Raila. In 2005, Tuju formed the Progressive People's Party (PPP) in what commentators say was to undercut Raila's solid Nyanza vote. This could have contributed to Tuju's losing his Rarieda MP seat in the December 2007 polls when he ran under Kibaki's Party of National Unity (PNU).
Again in 2012, Tuju launched the Party of Action (POA) before linking up with Uhuru Kenyatta and William Ruto under Jubilee party alliance as its secretary general in 2017.
These feuds with Raila through several election cycles cast Tuju as Nyanza's prodigal son. But after the Raila-Uhuru handshake, Tuju again became a close ally of Raila. Perhaps, it is only ill-fated that Raila did not win the 2022 presidential election where Tuju was central in promoting Raila's candidacy.
With all said, Tuju is development-oriented as witnessed in his time as Rarieda MP. But Nyanza will have to wait for Tuju's next political puzzle to see who he will cast his lot with come 2027. 
But whoever of these young and old Turks will step into Baba's shoes should be mindful to marshal personal drive, charisma, Baba's goodwill, cross-party and regional appeal and good finances to back their bids. But all have to appreciate that the Luo nation still cherishes Raila and punishes those who line up against him.
Lee Makwiny is a Kenyan political commentator