In 2006, former speaker of Parliament, Jacob Oulanyah, and now Chief Justice Owiny-Dollo, became one of the legal brains to guide the Juba peace talks between rebel LRA and the government of Uganda.
Although the peace talks aborted in April 2008, it ushered in the peace that Northern Uganda now enjoys.
At the height of the 20-year-old war, nearly 1.9 million people in Acholi were forced into camps, lived in squalid conditions, with 146 of them dying every week, according to aid agencies.
Another 20,000 children were reported abducted and more 30,000, popularly referred to as "night commuters" were spending cold nights in open public spaces in Gulu town.
Some of these open spaces included Gulu Main Bus Park, and the corridors of St Joseph's Hospital, Lacor.
Before the Juba talks, political, religious and cultural leaders huddled up with the children and braved the cold nights at Gulu Main Bus Park to experience their pain.
Stephen Okello, a former night commuter, says most of them would troop to town to face the cold nights, threats of physical assault, sexual harassment, and even rape.
At the time, the people suffered other gross abuses, including torture and mutilation, abduction, sexual violence, forced recruitment, and killings at the hands of both the rebels and the army.
Such miseries forced Acholi religious, cultural, and political leaders to risk their lives and agree to meet Kony and push for peace. But Okello says they never believed that Kony would accept the talks.
Nevertheless, preliminaries for the talks started soon after.
Rwot Yusuf Adek, the clan chief of Pageya, says Kony invited him as a confidant on November 15, 2005.
This was nearly eight months ahead of the peace talks.
But the government only accepted the talks overtures in April 2006.
The actual talks then kicked off on July 14, 2006, with ceasefire declared by September.
Rwot Adek says Oulanyah and Owiny-Dollo arrived in Juba almost six months into the peace negotiations. But he says their paths to the Juba talks proved tough.
Rwot Adek says the LRA top guns, namely Kony and deputy Vincent Otti, rejected outright and tried to block Oulanyah and now Chief Justice Owiny-Dollo from participating in the peace negotiations.
But Owiny-Dollo dismisses the claims although he says he joined the negotiations five months later.
Rwot Adek says Kony accused Oulanyah and Owiny-Dollo of working for the NRM government of President Museveni. He says the LRA warlords insisted the duo would not be neutral and claimed they "were not wanted by their own people."
But Owiny-Dollo says his invitation came directly through personal emissaries sent by Kony soon after the first wave of Acholi leaders visited the LRA chief in his sanctuary in Garamba forest, seeking peace.
The emissaries included Col Walter Ochora and Alfred Oluba, who delivered Kony's personal plea for Owiny-Dollo to meet him in the dense forest.
Mr Oluba corroborates Owiny-Dollo's testimony and says Kony was especially eager to consult Owiny-Dollo because he had stood for truth as a minister and was forthright in drafting the peace agreement between NRA/M and rebel outfit UPDM/A, signed on June 3, 1988, at Pece stadium, Gulu.
But Owiny-Dollo says if there was any opposition, it could have only come from other Kony aides jostling for supremacy, and not from Kony, who had personally invited him to Garamba.
Kony, again through emissaries in Jannuary 2007, endorsed Owiny-Dollo as legal counsel to chief mediator Dr Riek Machar during the peace talks that ran from 2006 to 2008.
Owiny-Dollo trained in conflict mediation and resolution in the United Kingdom, and South Africa.
Dr Riek and Owiny-Dollo then co-opted late Oulanyah to the peace team secretariat.
But Rwot Adek says he was disturbed as two of their own sons were being barred from the negotiations while outsiders were endorsed to determine the choice of peace and war in Acholi.
To sort out the impasse, Rwot Adek says he turned to LRA team of Dr Alfred Obita and Justine Labeja to plead with Kony through Otti for the duo to join the mediation teams.
Rwot Adek says Kony confronted him on the pleas but he argued that the two had rich legal expertise and knowledge of the conflict. He says he also convinced Kony that Oulanyah and Owiny-Dollo could be fallback pillars and go-betweens for the LRA team and government should the issues become sticky once back home.
"After much persuasion, Kony relented and Oulanyah and Owiny-Dollo joined the negotiation teams to thrash out some of the sticking issues," he says.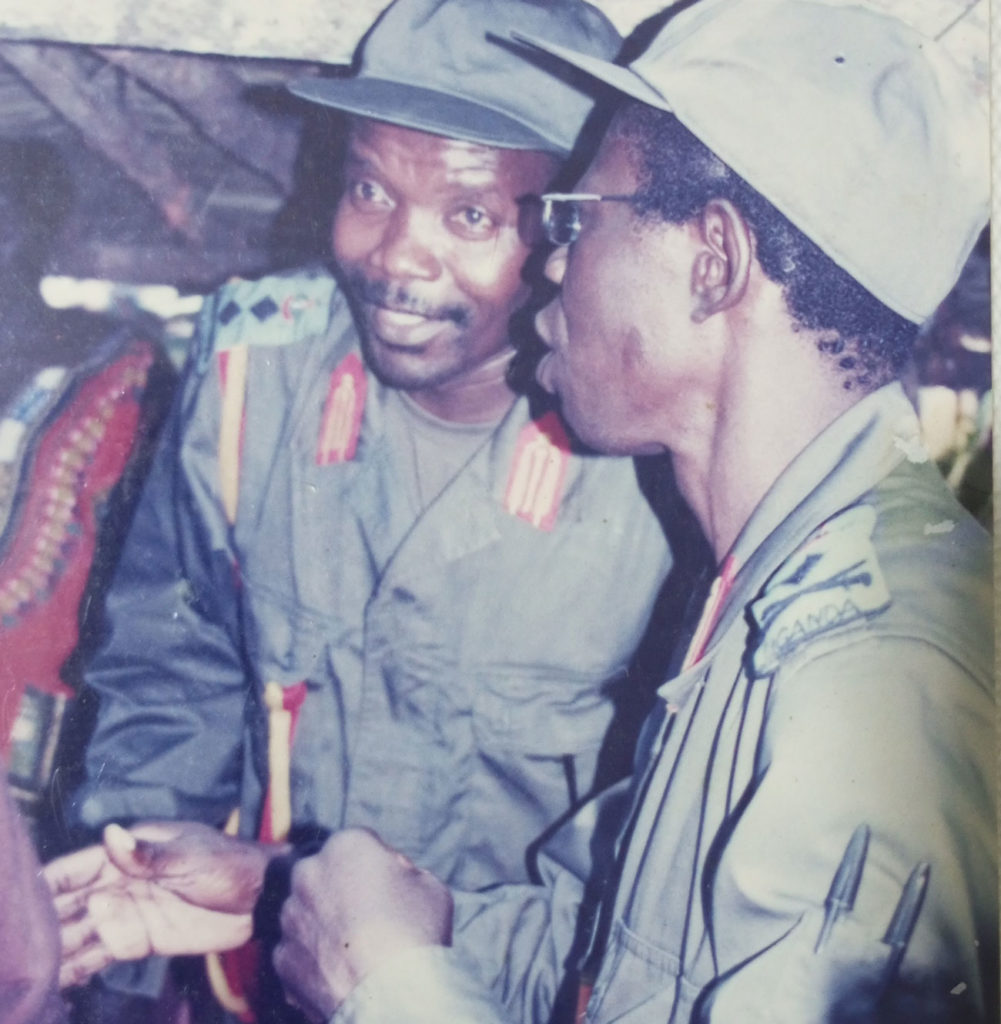 But Owiny-Dollo says if there was any intervention by Rwot Adek, it could have only come before Kony invited him to Garamba, since Rwot Adek arrived in the jungle earlier on the invitation of Kony.
Owiny-Dollo says the only antagonism he remembers is when David Nyekorach Matsanga attacked him during one of the meetings attended by Machar and Kony. He says Matsanga accused him of being an agent sent by President Museveni.
Owiny-Dollo had served in government as minister for Northern Uganda, and as minister of State for International affairs.
But Owiny-Dollo says he shot back and dismissed Matsanga as "a desktop war monger living off the pains of innocents!"
Interestingly, Owiny-Dollo says a principal Kony aide assured him that LRA leader had directed that he and Oulanyah would not go anywhere, but stay put to see the peace talks through.
Indeed, Kony shortly after overhauled his peace team and withdrew their dissent, accusing some members of his delegation of being opportunists.
But what Rwot Adek accepts is the immense contribution of both Oulanyah and Owiny-Dollo to the Juba peace negotiations.
"They contribute a lot. There was the all-important harmonised Paper concerning Agenda Number 2; namely the comprehensive solution to the northern war. The paper, which was contributed by Owiny-Dollo and Oulanyah, was very powerful, and was much superior to one prepared by both the LRA delegation and another by the mediation team spearheaded by [lawyer Barney] Afako," says Rwot Adek.
He says when both sets of papers were presented to Kony, he felt very happy and nodded for Oulanyah and Owiny-Dollo as competent and trusted lawyers who could now advance the peace negotiations.
"Henceforth, Oulanyah and Owiny-Dollo, bolstered Ayena-Odongo and became legal treasures to the LRA team. They were now regularly consulted and their legal positions were always adopted and presented as solid and convincing before the negotiating teams," says Rwot Adek.
"But Oulanyah suffered another baffling daylight tragedy, which left us both shocked and tearful. All his documents, computer, clothes, the mattress in his tent – all got burnt down and Oulanyah remained only with the shirt on his back, the trousers he wore and the pen and notebook in his hands," he says.
But Rwot Adek says not even this tragedy could shake Oulanyah's resolve and search for peace,
"Even when he was first blocked from joining the negotiations, and lost all his legal documents and gadgets, his dedication to peace and unity [in Acholi] kept him going," Rwot Adek says.
This testimony is backed by the Acholi Muslim Khadi, Sheik Musa Khelil, who was one of those at the forefront of suing for peace in northern Uganda.
The cleric says he vividly remembers Oulanyah facing Kony and boldly telling him: "Mind about the people at home, mind about the suffering of your people."
Sheik Khelil references Agenda Number 3, which centred on reconciliation, peace and accountability and required legal minds to convince Kony on the importance of suspending arrest by the ICC in order to create an atmosphere of trust.
"Agenda Number 3 had required legal minds and Oulanyah, Owiny-Dollo, Norbert Mao, and team helped us achieved that easily," he says.
Sheik Khelil says the burden fell on Oulanyah, Owiny-Dollo, Mao, Ayena-Odongo, and Afako to sway Kony to allow his team participate in the negotiations. Kony then accepted to release his mediators to join the talks and drive the peace process forward.
"I remember him [Oulanyah] telling Kony the truth about why he should sign the peace deal," says Sheik Khelil.
Sheik Khelil also says both the International Division of the High Court and the Northern Uganda Peace and Reconstruction Programme (PRDP), and many other durable initiatives came off those efforts.
Both Sheik Khelil and Rwot Adek compliment Oulanyah and Owiny-Dollo for their legal drills to LRA during the peace talks and the ultimate return of peace to northern Uganda.
They say the compromise between Kony, Oulanyah, and Owiny-Dollo at the Juba peace talks reveals how Acholi can be stronger when they work together.
About the Juba talks
The talks were mediated by South Sudan Vice President Riek Machar, assisted by chief legal advisor Barney Afako, an expert on peace negotiations.
The UN sent for the talks, its envoy and former Mozambican President Joachim Chissano.
Lawyer Ayena Odongo was lead counsel for Kony and team while the government team was led by then internal affairs minister Dr Ruhakana Rugunda.
The Acholi Religious Leaders Peace Initiative (ARLPI) team included Gulu Catholic archbishop John Baptiste Odama, and Kitgum Anglican bishop Macleord Baker Ochola II. ARLPI guided the teams on transitional justice areas that touched on religious and cultural aspects of reconciliation and accountability for crimes committed in the northern war.
In attendance were also cultural leaders led by Rwot David Onen Achana of the Acholi cultural institution, MPs and District Council leaders from Acholi and representatives from Lango and Teso.