The cold and sometimes only lukewarm relations between President Museveni and the Acholi community is habitual and not about to end soon. Not even the current overtures to mend fences between the two are without reversals.
The latest apology, exactly one month ago, by President Museveni over his failures and mistakes in the sub-region is not any different. Mr Museveni is known for his double-speak and quick shifts on Acholi issues. He says one thing from one side of his mouth and eats it back from the other side.
President Museveni did the same on September 2 at a unity prayer rally convened by his daughter, Pastor Patience Rwabogo, at Kaunda Grounds in Gulu City.
Mr Museveni apologised but immediately ate back his words, rendering the apology cold.
"I'm here to take full responsibility for all the mistakes in the region," he said. But President Museveni also quickly washed himself clean and exempted himself from responsibility. He instead heaped blame on "the leaders we [NRM] entrusted with various responsibilities" in the sub-region.
He did not list the countless "unnecessary suffering for the people of Acholi," but blasted the community for being stubborn, and deliberately or unknowingly failing and neglecting to embrace his NRM government programmes.
Similarly, whether by design or unknowingly, President Museveni weakened his recent gains in Acholi. Mr Museveni had just harvested son-of-the soil and DP top dog Norbert Mao and was to crown this with four days of prayer for unity by his daughter, Pastor Patience Rwabwogo.
To crown both gains, Mr Museveni jetted into Gulu for the prayer rally dubbed – Light up Acholi land for Jesus Mission in 2023. And his intercession was clear as he prayed: "May there be general reconciliation between us [NRM regime] and the people of Acholi."
But President Museveni ruined his apology, prayer request and daughter's delight in the four days of solidarity prayer. Mr Museveni, for reasons best known to himself, faltered and declared that the hotly contested Apaa land is in Madi, and not in Acholi. This utterance shocked many as Mr Museveni had just prayed for reconciliation between his NRM regime and the people of Acholi.
Many questioned why President Museveni should hijack the work of the Judicial Commission he had just appointed to inquire into the prickly issue of Appa land. Mr Museveni's remarks were deemed as being a poisoned stab to the interests of the Acholi. It was also seen as a nod to the land-grabbing, forceful evictions, dispossession and other excesses meted out in Apaa.
This mis-speak also flared up memories of relentless harmful campaign waged against the community during the Luweero Bush War in the 1980s. Mr Museveni's shock remarks also fed negative speculation into his daughter's prayer mission. Many felt Mr Museveni was backstabbing them yet also cleverly using his daughter's prayer crusade to blindfold the sub-region.
For this, the reaction was furious. In just five days, President Museveni's statement on Apaa had triggered anger, radicalised opinion, and forced a solidarity march by the wananchi, MPs, and chiefs from Gulu to Apaa. The trek was, of course, blocked at Pabbo, but the people's wrath was voiced by Rwot David Onen Achana, the Acholi Paramount Chief.
"No one should play around with or grab any piece of Acholi land. The land in Apaa is Acholi land and occupied by the Acholi. If it pleases anyone to proclaim Apaa land, let them do so, but that is Acholi land. We won't tolerate any harassment, maiming and killings in Apaa," he warned.
His anger was echoed by Anthony Akol, the Kilak North MP and chairman of Acholi Parliamentary Group. "And if such a statement [that Apaa land is in Madi, and not in Acholi] is coming from the Head of State, we condemn it in the strongest term."
"In this situation where the President goes ahead to announce in Gulu District, in Gulu City, that Apaa belongs to Madi, is very frustrating and very disappointing and we want [an] apology from the President now," he demanded.
Mr Akol said since 2017, the conflict in Apaa has killed 29 people, with more than 300 houses burnt and property lost in 2023 alone, but none of the attackers are arrested, instead his people in Apaa are arrested and jailed.
"We have decided to voice ourselves to the government that enough is enough … and tell Ugandans that we cannot be punished, we cannot be suffering and we are killed with bows and arrows …; it is not acceptable," Mr Akol said.
Strangely, Ms Grace Freedom Kwiyucwiny, the Minister for Northern Uganda, had just warned President Museveni of this bitterness and deep hurt in Acholi. But Mr Museveni chose to repeat exactly the same mistakes and failures he and his NRM regime have committed for 37 years and for which he had just apologised.
Curiously, Chief Justice Owiny-Dollo last Friday revisited Mr Museveni's apology and plea for forgiveness over past mistakes by the NRM. But when Dollo relayed the request by Acholi leaders to meet for dialogue, President Museveni seemed aloof and only said he had taken note. Both Dollo and Museveni were in Gulu at the State reburial of Brig Pierino Okoya, the then Deputy Commander of the Uganda Army. He was assassinated unclear circumstances at his village home in Gulu in1970.
Such quick shifts, exactly are, what many Acholi find frustrating and hard to reconcile with Mr Museveni. His words and actions have scarcely matched over the last 37 years, especially on issues regarding Acholi.
Indeed, as Mr Akol said, his people's excitement has been killed and there was now no way that the Acholi will see the Judicial Commission of inquiry as independent and able to come out with facts and help to sort out the problem of Apaa, given Mr Museveni's meddling.
"We are disappointed that he [President Museveni] has appointed people to rubber-stamp what he has on his mind against the people of Acholi … we demand that the President should apologise to the people of Acholi."
Sadly, for Acholi, these cries to President Museveni over Apaa land, wanton environmental destruction, mass intrusion by the Balaalo, land grabs of customary land, cattle raids and killings by the Karimojong and South Sudanese remain unsolved. Their screams have been met with only cunning ministerial and presidential orders, which are planned to be ignored or reversed at will and convenience.
The latest attempt at redress, Executive Order No. 3 of 2023, issued by President Museveni on May 19, 2003, has also been pushed and frozen at will. Mr Museveni deferred its execution on July 2, and has now again pushed it to October 20. Worryingly, these missteps, failures and broken promises are fueling the decades-old negative opinion that Mr Museveni has never meant well for the central North, especially the Acholi sub-region.
It should be now that President Museveni paid heed to such frustrations as expressed by Mr Akol. He warns that these orders and reversals have become cheap excuses and are done with malice.
The community now feels President Museveni shouldn't waste time to study the new reports about the Balaalo operations in Acholi. First, President Museveni was well-informed when he declared: "I, therefore, completely ban the illegal presence of Balaalo in the northern Uganda districts."
Second, President Museveni was clear that no Mulaalo should settle in and bring cattle to Northern Uganda because they were trekking in illegally or manipulatively in Acholi, Lango, and Teso. Third, Mr Museveni's order sought to stop cattle rustling, end damage of environment by big charcoal burners, break the greedy land grabs by the indisciplined Balaalo, whom President Musevenii said originate from Ankole, Mpororo, Bunyoro, parts of DR Congo, and Karagwe in Tanzania and Rwanda.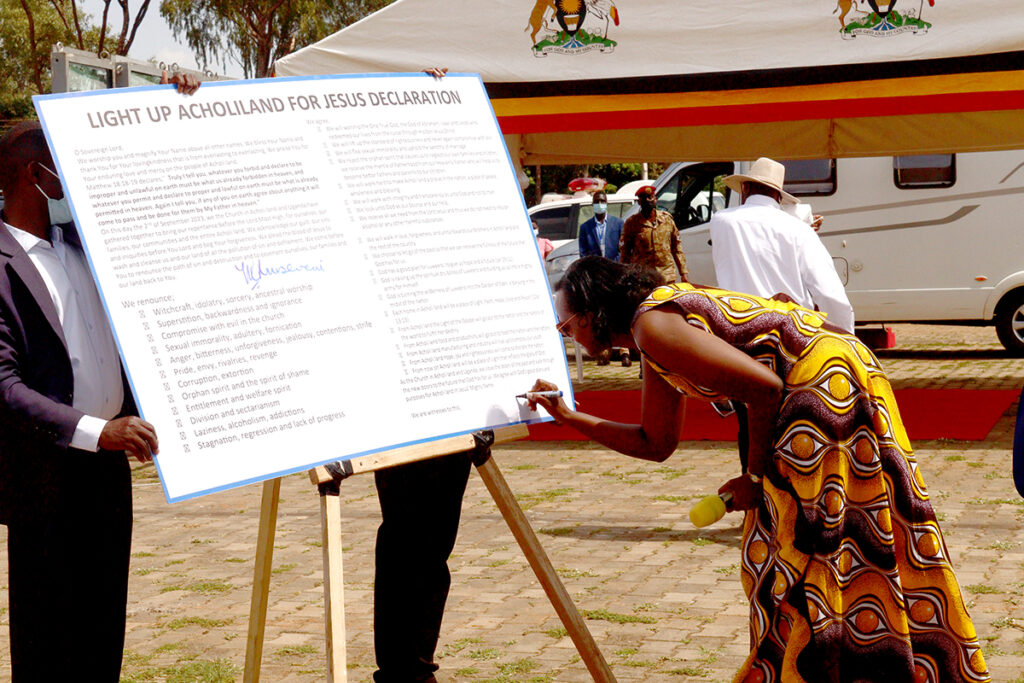 So, what facts have changed to reverse President Museveni's Executive Order No. 3 of 2023?
The answer is apparent. The reversal likely stems from a memo by the de facto governor of Northern Uganda, Gen Salim Saleh, the President's brother. The General had made strong objections to Executive Order No. 3 in several open and closed-door meetings with Acholi leaders.
But the people's fears of the shifts in position by President Museveni and Gen Saleh are now finding a good fit in the warnings by Kira Municipality MP Ssemujju Nganda. He warns that the war waged and the peace ushered in Acholi and our new political alliance with the NRM will bring nothing but the same curses that Buganda is now suffering even after bleeding sacrifices in the Luweero Bush War that pushed to power Mr Museveni and his military-politico outfit, the NRA/NRM.
Ssemujju Nganda says the Acholi, just like the Baganda, will now be dispossessed, lose their ancestral land, get new land owners, and have their customary land ownership reversed.
Indeed, the land rush is creating a wave of resentment across Acholi. This was well-expressed by Mr Akol, when he said: "As MPs from the region, our position is that the eviction [of the Balaalo] must start, the Executive Order must stand and it must start working now."
From the grassroots to chiefs and MPs, it's clear the sub-region has resolved that the Balaalo must go, with or without the presidential order. Any contrary push is likely to force the people to disengage with the proposed Operation Harmony, which has been instituted to manage Executive Order No. 3 of 2023. So, the proposed clauses on verification of the Balaalo, their families and location, number of cattle, and reviewing each on case-by-case basis as opposed to blanket eviction, and entertaining any legal court cases to stop the eviction, has to be managed with care.
Already, the people are feeling they are on their own, and must rely on themselves to protect and push for their interests to secure their inheritance, even as Minster Kwiyucwiny warned at the weekend that no one should take the law into their own hands.
This, exactly is, the backdrop against which President Museveni will jet into Kitgum in East Acholi, to mark Uganda's 61st Independence Day celebrations. The unsent dossier that Museveni would be advised not to ignore is that people in Acholi are bleeding from Balaalo invasion, yet their war debts are not paid, and their property carted away and cattle that were looted by Museveni's army, the NRA, are not compensated and not restocked, and their people in Apaa are evicted and some killed and their huts burnt down.
There is also anger that the NRM regime feeds only its interests and those of its cronies and has cut up chunks of Aswa ranch land and has gifted it to themselves. In all these, the government looks away as vicious destruction of the environment, cattle raids and senseless killings by both the Karimojong and South Sudan rustlers are running unchecked.
These bitter sentiments are bound to kick up new political headaches for President Museveni and his NRM party in Acholi. Already, the people are asserting themselves with strong calls to kick out the sitting MPs, who have shut up their mouths on these burning issues in Acholi.