This weekend marks two years and two months since Kilipa Ogwang passed on, September 24, 2020. In a series of articles, Look North celebrates Kilipa's illustrious career that spanned 60 years during which he composed more than 400 nanga songs.
AGAGO. When we paid a courtesy call on Kilipa Ogwang at his Kitgum home in July 2017, he was down. His health had badly deteriorated.
It took Kilipa quite a bit of time and energy to move the few metres from his sitting room to join us on the porch of his house at Ginnery Ward in Pandwong Division, Kitgum Municipality.
A guide had to delicately steer and walk him to his seat. We were shocked to learn the nanga maestro had gone blind since 2014.
Despite the apparent pain and weaknesses, the ever-humorous Kilipa still had the knack to coin some comical lines to convey his lost eyesight and affliction of lot more illnesses wreaking havoc on his aged body. He referred to them as his 'visitors'!
"The visitors started coming in 2004 and intensified the frequency of their visits before deciding to take away some parts of my body they liked most. My pair of eyes is one of them, so were my fingers," he said, as he spread his once agile but now frail fingers for us to see.
"The little finger can no longer bend. If you touch in the middle here, it's stiff. They (diseases) are the ones that did this. There're also other body parts no longer functional," he chuckled.
Kilipa's once agile fingers that used to dance at will – like a dancing butterfly – on nanga and guitar strings and olwere [flutes] as he adeptly strummed sweet melodies in the early days; the fingers that brought him so much fame; were no longer as sprightly as before.
It was the same story with his former sweet, soothing and smooth voice. It had become croaky and disappeared altogether at times as Kilipa strained his vocal cords in a bid to recreate the perfect tunes of his youthful days.
But old age, coupled with the destructive diseases, were clearly having a toll on him.
Kilipa was now a shadow of himself – no longer the nanga and dingidingi legend, who had performed not only in Uganda, but his exceptional talents had also airlifted him abroad to Egypt, Nigeria, and overseas to Germany.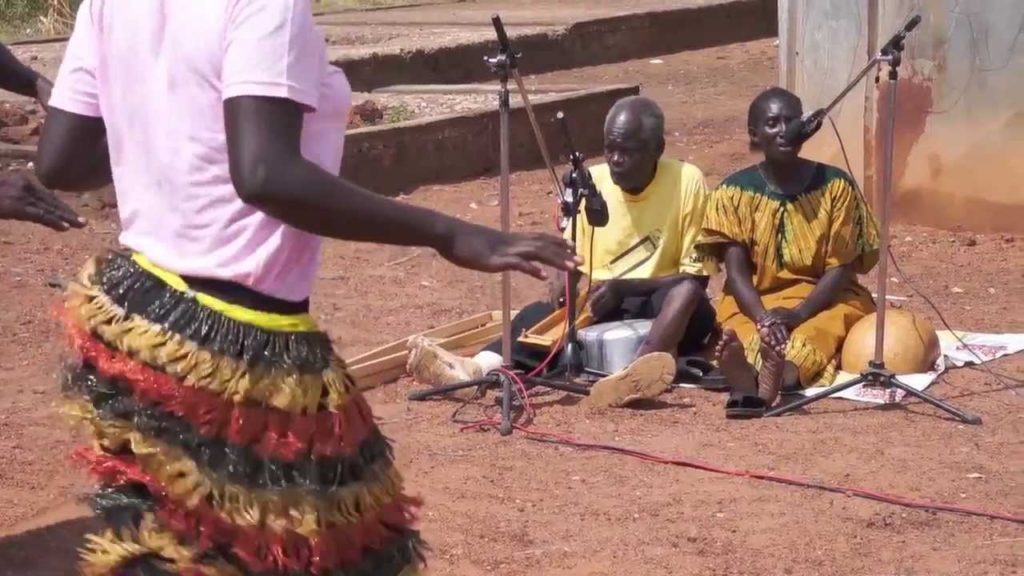 Kilipa's exceptional skills in an array of performance arts positioned him among the star performers in the Heart Beat Africa, a renowned cultural dance troupe. These ranged from leading musical and dance groups, including brass band, dingidingi, and larakaraka dance troupes.
Surprisingly, Kilipa's memory seemed intact and untainted by the unwanted 'visitors' and advanced age. His recollection of long-gone events, dates, and places from his vast and illustrious musical career remained as sharp as ever.
Kilipa, 84, breathed his last at 8.11am on Thursday, September 24, 2020, at Gulu Regional Referral Hospital.
"He was a person who knew the exact dates of major occurrences in his life. So, his sharp memory was a special gift from God," his documentary maker Patrick Lamot noted.
His daughter, Ms Fiona Akwero Ogwang, said Kilipa had complained of lower abdominal and chest pain. The nanga maestro had for long battled diabetes, high blood pressure, and kidney disease and had long lost his eyesight.
The governmental restrictions around social gatherings like funerals due to the Covid-19 pandemic that had devastated the world curtailed Kilipa's adoring fans, family, and relatives from according him the decent sendoff ceremony befitting a man of his stature.
Only a few people managed to witness the internment of his remains at his ancestral home in Olupe Opong in Geregere, with plans then mooted to organise a grand memorial prayer for his multitude of fans who have cherished his more than 400 songs over the last 60 years but had missed his sendoff.
May God grant the soul of the king of nanga a befitting, peaceful and eternal rest.