When Raila, in the run up to 1991 general election, declared that his relationship with his father was a biological accident, simple-minded people misread his statement. 
But the truth is that we are children of our fathers and mothers through a biological accident. Thus, a comparison of the two Odinga will become inevitable.
We can try to delay this comparison but we cannot hide from the truth that this moment will come to pass. Nonetheless, the two Odinga are not that far apart. They are very close because they shared an era, phase, space and even pace. 
I think there was learning from each other and even an element of involuntary imitation. 
Masterclass tactician 
Like Santino in The Godfather by Mario Puzzo, Raila is a masterclass tactician. What his father Jaramogi lacked in phases of the battle that required streetwise tactics, Raila possesses in abundance. 
Jaramogi had to rely on trade unionist and fierce freedom fighter Pio Gama Pinto and Ocholla Mak'Anyengo to operationalise his strategies. But Tom Mboya, his shrewd, fierce and capitalist backyard rival, had to use State operations to move steps ahead. 
Little wonder that Pio Gama Pinto was gunned down in 1965 and left-leaning Ocholla Mak'Anyengo framed for the killing but was exonerated by the so-called killers. Both Pinto and Mak'Anyengo were the cogs in Jaramogi's political machine and were both seen as avowed leftists by Jaramogi critics; mostly pro-Western bloc enthusiasts.
Despite Mboya's shrewdness and apparent trickery, Raila would have had Tom Mboya for breakfast because Raila revels in military precision tactics. 
In every uneven combat, Raila has excelled because he needs close combat and loves close operations. So, in any battle that dictated street tactics, Raila would have destroyed Mboya. 
But this will require another comparison for another day. 
Nonetheless, Raila was a football player too and his chosen position was defensive midfielder. 
As a defensive midfielder, Raila's position is to fix errors, watch the opponent's scheme, quickly react and throw in last-ditch tackles because anything that passes exposes and stretches the defence. 
Daredevil kamikaze operations 
Raila's thinking is, therefore, a series of small daredevil kamikaze operations. So, in the army, Raila would do well as a crack commando; conducting daring raids deep into enemy territory.
If you watch how Raila has dismantled the electoral issues in Kenya; all have been separate operations, which are very unrelated to each other. 
The constitution review process was another dark street fight that illustrates Raila's strategic prowess. And just see how he wrecked the government machinery. 
And it is difficult to stop Raila in those tactical manoeuvre waters and that is why I know Mboya would have been swimming upstream when matched against Raila. 
Say, if Mboya threw in that shitty little byelection, Raila would not react by scanning the environment. No, he would just take the fight to Mboya in that little byelection and fight back to win them all. 
Then he would be off and join Mboya next to Jomo Kenyatta and Mboya, and then it would be off for Mboya.
But only the age-old Ugenya Kager tactic has stayed constant with the Raila-style of operations. 
Ugenya Kager manoeuvre
The Kager clan are the most war-like of the Luo clans and are famous for infiltration then causing strife. Theirs is fame out of notoriety.
There is a tactic associated with people of Ugenya Kager clan to extort errant brothers-in-law when they come visiting the wife's home. In traditional days, when men wore only skimpy leopard skin, it was quite a challenge to visit one's mother-in-law in Luo land because it's a taboo to expose your modesty to your in-laws. 
But what these Kager young Turks used to do is send the young-lings to upset the three-legged stool at which point the in-law will stagger to the floor with his modesty exposed. 
The clan would then demand a goat to be paid to the in-law as a penalty for indecent exposure. 
It was not expensive in terms of the hefty penalty but in terms of the shame of having your modesty exposed to your in-laws. The ridicule would inerasable.
Remember how Raila walked out of Ford-Kenya after the competition with Michael Wamalwa, James Aggrey Orengo and company. His competitors were left confused because he just did a tum Kager. He then walked into the National Development Party (NDP). 
Before long, NDP president Omondi Oludhe, my school mate, found himself seated with bare buttocks on the floor like a Kager in-law. Another tum Kager!
Then Raila, in the Ugenya Kager style, walked into KANU in peace but when he left, KANU was in pieces – yet another tum Kager! 
Soon, Raila and his NDP realigned with other KANU dissenters to form the Rainbow Coalition. And together with then-minor Liberal Democratic Party (LDP), formed the National Rainbow Coalition (NARC) and under his Kibaki Tosha code word, won the 2002 presidential elections.
It's a tactic in such small operations that Raila has repeated again and again with the same desired effect. I wonder what he is doing now and who is next to feel the full effect of another tum Kager? 
All I know is the people of Ugenya Kager should have patented this tum-Kager military operation. As for Raila, these series of small daredevil kamikaze operations earned him the title Agwambo; meaning the mysterious and unpredictable one.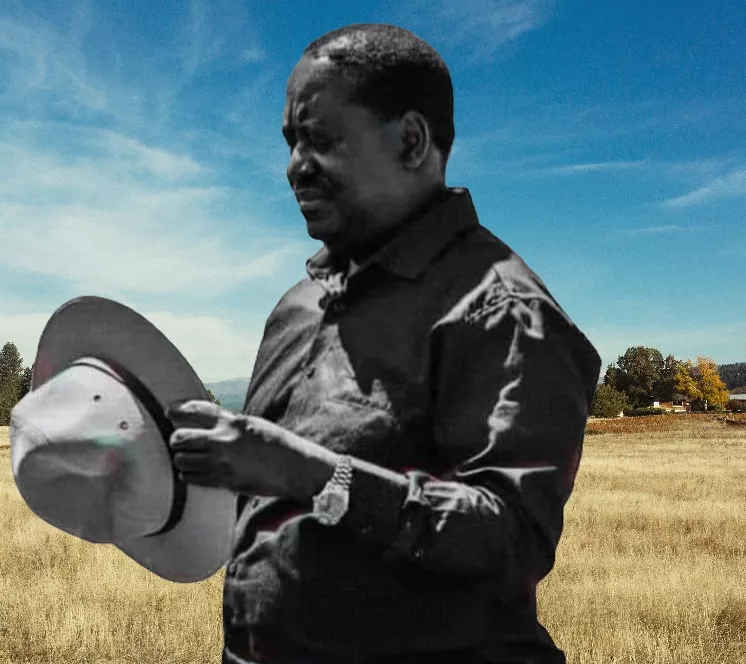 Fight for electoral justice
In terms of close combat or street tactic, Raila is Indomitable. Remember how he dismantled the grand election theft and did not spend a single cent in the repeat 2017 elections?
It was simply, "prove to the world how you managed to get your votes in a repeat election by running against yourself" – a masterclass in street tactics. 
Even Papa Jaramogi would not have conceived this one!
But luckily for Raila as was with Tanzania's Julius Nyerere and Zambia's Kenneth Kaunda, he had time on his side and has demonstrated to the world that he is a statesman. 
Indeed, time has been kind to Raila Amolo Odinga. But the difference is that the Cold War did not let Jaramogi prove to the world that he was a statesman in the same way Ghana's Kwame Nkrumah and DR Congo's Patrice Lumumba died and are celebrated in an image they were not. 
Jaramogi was, therefore, a statesman more concerned with the next generation and not just the next election. It is, therefore, unrealistic to restate Jaramogi's credentials here; even more so with regards to Raila's credential. 
But Raila's major undoing has been in terms of future political preparedness.
So, who are Raila's disciples to bear his torch once he exits the political stage? 
Political succession question 
Jaramogi had a disciple-churning machine, but who are Raila's clear disciples who can carry his voice? Could it be former governors Hassan Joho of Mombasa or Cornel Rasanga Amoth of Siaya County, or lawyer and Senator Otiende Amolo?
If it starts to pour, which tree do Raila mass following shelter under with son Fidel out?
Could it be his daughter Winnie or son Raila Junior, or wife Mama Ida? 
Definitely not Dr Oburu Odinga because Siaya County Senator Oburu himself is sheltering even right now. So, Raila needs to install frontrunners like Jaramogi bequeathed frontrunners. 
Similarly, what is Raila's answer to community investment or public employer like Spectre, Lolwe, Luo Thrift? Comfort is, Raila still has time on his side to answer Jaramogi, his father.
Negotiating the local, global
But does Raila live by what he preaches like his Papa? 
I would say close, but not quite close enough.
Like his father, Raila, who is popularly referred to as Agwambo, is a true lover of his people. Any other politician would have sold out in the morning. But for Raila, despite what is on offer, his stance has not faltered. 
A good example is his position on gays and lesbians. On these, Raila has not taken cover from the firing line, knowing very well that his viewpoint will deny him international influence. 
And it is not far-fetched that some of Raila's troubles abroad have emanated from that stance. 
But Raila has surely listened to the pulse of his people. He knows the heart of Kenyans and sees that whether one is gay or not is irrelevant, given the more pressing issues at hand. 
Raila knows nobody is persecuting gays in Kenya, so why make it a debate. 
Then there is the democratic live and let live. When his Papa acquiesced to being Ker, I am sure Jaramogi would not take kindly to being referred to as Ker. That is another role but runs against his very important position as a political god. 
But I am not sure Raila is quite in the same wavelength.
Extracted from Odinga versus Odinga II,  https://www.namlolwe-anecdotes.com/