KAMPALA. When Ham's book, Success and Failure Based on Reason and Reality, was approved as fit-for use by secondary school students, many were surprised.
Many more critics said the criteria of choice was unclear and likely influenced.
This and similar claims or suspicion of Ham's links to the powers that be have persistently angered Ham and mocked his efforts. Could it then be that Ham's critics were judging the book, not by its contents, but by the ambiguous reputation of its author?
Ham published the book in 2018 and Uganda's national curriculum developers, the NCDC, endorsed it for use in secondary schools in June 2019.
NCDC director Grace Baguma then said Ham's book was adopted to change the mindset of students, inspire them to do business, save and invest. Whereas NCDC senior curriculum specialist Angela Kyagaba said the book was adopted for its strong local content.
NCDC also then said the book was reviewed for language, relevance and message.
But not all are ready to give the nod to Ham's book, which advises on self-improvement, financial success and need to have a sense of purpose.
Hero or villain?
A loud opposition comes from Kampala Lord Mayor Eriasa Lukwago, who sees the book as a bad reference for impressionable 14 and 19-year-old youngsters in high schools and colleges.
Lukwago says the book wrongly champions business without morality.
"So, our children are going to be taught skills of primitive accumulation of wealth by illicitly acquiring national assets like Nakivubo stadium, park yard markets …" he wrote.
Lukwago again, only last week, knocked down Ham's Nakivubo stadium project as a raw deal and stopped short of dubbing it a rip-off.
"Through sheer artifice, Ham Kiggundu alienated a national facility of monumental value at zero cost, and turned it into a private commercial complex. He now has no qualms unveiling a poorly-developed playground of tennis court-size, seeking for acclaim as a philanthropist!"
But Ham, in a seeming rejoinder on Facebook only hours after, shot back, "… It's our obligation and responsibility as Ugandans to spearhead development of our motherland, Uganda, … let's drop the negativity and focus on substance."
Little wonder that Ham in his booklet questions this suspicious mindset. "Why should a Ugandan be frustrated for trying to develop their country – a national stadium – whoever one supports – the current government [NRM] or the Opposition?"
Indeed, Ugandans are split on the Nakivubo project with as many supporting and opposing.
But Ham is unbothered by the noise, and the realist in him warns that no one should forego any profitable business just because of personal social differences.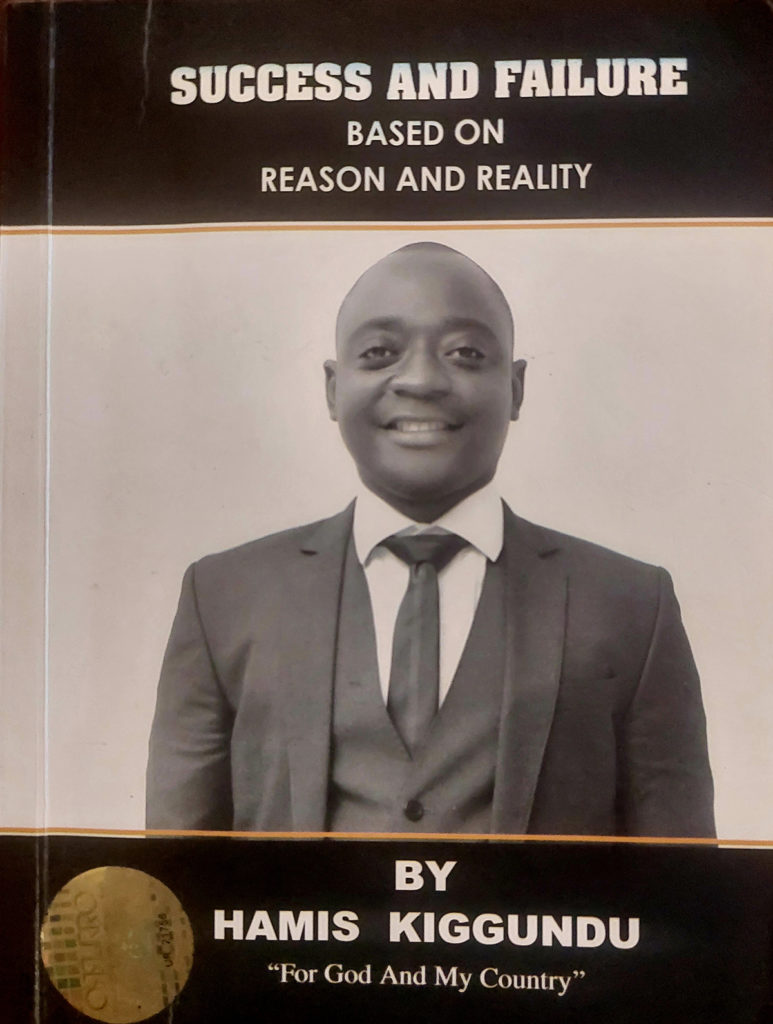 Daredevil investor?
Perhaps this very book, Success and Failure Based on Reason and Reality, offers by far the clearest but rare peep into the heart and mind of Ham, the business enigma.
Ham says whether one likes a person or not – exploit the business opportunity.
Ham in the book writes, "It doesn't matter what you do or say or where you get the money from … with or without problems, life goes on."
On the whole, Ham's business philosophy as outlined in the book, hinges on the mantra that "emotional happiness on an empty stomach doesn't count."
Ham believes that a productive business engages even old foes without holding a grudge – don't hold onto the past.
So, the book, Success and Failure Based on Reason and Reality, comes off as an exposé of Ham's soul to explain why he is where he is today as Uganda's young, shrewd, hustler tycoon and what he thinks people should do, including taking risks, in order to become successful.
Ham, therefore, comes off as a daredevil who is not hindered by what people may say of his shrewd business pursuits.
So, for anyone desirous of shrewd business pursuit, Ham's book provides the manual. The book sums up Ham's start-up in life, school, his mission and aggressive ambition to make Uganda richer, especially through agro-processing and value addition.
Ham shows obvious anger that only 10 percent or one million Ugandans are taxpayers and wants this base expanded to 20 million taxpayers. Ham seems angry that only few Ugandans can grasp his shrewd dealings with government on the Nakivubo Stadium.
Man-eat-man society?
To Ham, our society and its business environment is one of man-eat-man or survival for the fittest. He believes that survival instinct is the ignition of success and money the driver or basis of happiness.
Ham boldly asserts that those who disagree with him are failures or are already rich and are seeking happiness by other means. Ham brashly says that at 60 years, every man or woman must have improved his or her life, or else, should be considered a failure.
To Ham, "Wealth equals success as poverty equals failure." He says the size one's pocket or financial welfare is what determines how well one lives.
Ham says those who disregard money are only failures who have given up on getting rich.
But Ham also concedes that thinking and reasoning are the best paying jobs in the world. Still, he says great endeavours like education, jobs, family and marriage are only achievements. Ham says what really matters from these quests are the capital that one creates from them to define one's success, or else such pursuits also end in failure.
Ham says it's ridiculous to say one is a very poor old man but knowledgeable and wise. Ham believes that reason and reality must balance out.
Ham says, "A failure is not only useless to himself, herself, but also useless to the society or country where they live." He says failures are parasites who don't do their civic duties and obligations since they don't pay taxes.
Ham says a responsible citizen is one who can do his duties and fulfill his obligations, works hard, pays taxes, and can then demand services from government.
Ham the investor, warns that whether in business or love, no "young, cute, desirable woman should settle for a failure or anyone who can barely survive on his own – a woman or man should never look at a failure as an option."
Ham's rule of thumb is that in both business and love "emotional happiness on an empty stomach doesn't count."
Fed on silver spoon?
In his case, at only 34, when he published this book in 2018, Ham could already point to Ham Towers at Makerere, Ham's shopping Centre at Nakivubo, and an exclusive high-grade tarmac driveway to his luxurious home on Lake Victoria waterfront in Bbunga, Kampala.
But Ham was also born with a silver spoon in his mouth and surrounded by tycoons on both sides of his parents. For this, it should be clear why Ham scorns the circles of friends who don't add value. Nonetheless, Ham doesn't cite the company of risk-takers that have given him a helping hand, but confesses being helped up the rich ladder by his parents.
This may speak to suspicions by those who challenge the 'unclear' source of Ham's riches. And Ham is aware of this, but terms such tittle-tattle as driven by passionate hatred of the rich by the poor.
In sum, Ham says success is gradual hop-step-and jump from poor to survival, to rich and collapsing in reverse manner. But he says everyone's should aim at being rich to sit atop the money-making chain and know how to make money from the system because they own it while the poor – the failed lot – idle at the bottom.
Overall, Ham despises paper money as worthless and should be invested as capital. Ham cites his investor business trip from vending imported stock, amassing capital, buying and selling land and properties and building and owning properties and venturing into large-scale agro-processing industries.
Ham's unfamiliar, rushed investment
But to tell his story, Ham seems not to have kept good company of writers and editors. He wrote this pocketable book, edited and self-published it and denied the book the expert scripting and pruning of its rough edges.
The redundancies, lapses in grammar, and repetitions could have benefited from some tighter editing. Nonetheless, the errors are understandable for a book that was not word-processed but handwritten in a haste, in only six days!
Just like Amos Tutuola's 1952 African folktale thriller, The Palm-Wine Drinkard, which was speed-written in only one week, Hams's booklet too, was done in just six days! The business brochure is also cleverly short-sized and puffed up by large prints to make it run up to 152 pages. In reality, given the creative insertion of abundant blank pages between chapters, the catalogue could be fitted in just under 50 pages.
With all said, Ham's book is worth a read and enjoys a four-star rating on Amazon and trades for $9.20 (about Shs35,000) on Kindle, and $25.81 (about Shs97, 000) for paperback.
About Hamis Kiggundu
Born in February 1984, Lukerere, Kalungu District, Uganda
Educated at Kabojja International School, Munyonyo in Kampala
Studied Bachelor of Laws (LLB) at the School of Law, Makerere University, Kampala.
Real estate investor with a chain of commercial properties at home and abroad